Welcome to the Catholic Parish of Fish Hoek, incorporating the Church of St John the Evangelist (Fish Hoek) and St Brendan the Navigator (Sun Valley).
Christian tradition says that John the Evangelist was the Apostle John – one of the "pillars" of the Jerusalem church after Jesus' death. He was one of Christ's original twelve apostles and is the only one to live into old age and not be killed for his faith.
Saint Brendan of Clonfert (c. 484 – c. 577) called "the Navigator", "the Voyager", or "the Bold" is one of the early Irish monastic saints. He is chiefly renowned for his legendary quest to the "Isle of the Blessed." He was one of the Twelve Apostles of Ireland.
The Church of St John the Evangelist
Blessed & Opened 1951
Dedicated 1981
Holy Mass Times
Sat (for Sun) 17.30, Sun 09.30, Wed & Fri 09.00, Tue 17.30, Christmas school holidays 09.00, First Saturday 09.00
CONFESSIONS: Sat & Tue 17.00
DEVOTIONS: Rosary (after Wed & Fri Mass), Exposition & Benediction 1st Sat after Mass – Benediction at 11.00.
MINISTRIES/SOCIETIES: Parish Council & Finance Council, Altar Servers, Catechists, CWL, Extraordinary Ministers of Holy Communion, Folk Choir, Prayer & Life Workshops, Ecclesia, RCIA, Rosary, Divine Mercy, Neighbourhood groups
CATECHETICS: Fri, Sun. Co-ord: Ms Lorraine Johnstone. Tel: 021 782 4810 (a/h). Email: 45kommetjie@gmail.com
CHAPLAINCIES: False Bay Hospital, Nerina Gardens, Peers Village & Carlisle Lodge Old Age Homes
ST JOHN'S: Corner 6th Avenue & Kommetjie Road, Fish Hoek
PRESBYTERY: 2 Sixth Avenue, Fish Hoek, 7975
PHONE: 021 782 2671
PARISH PRIEST: Fr Subeesh Kalappurackal (021 783 1768)
PARISH DEACON:
SECRETARY: Ms Angela van Assche (Tue, Thu, Fri 8.30-13.00)

St John's Prayer
Holy Father, teach me Your Word.
Holy Son, reveal Yourself to me.
Holy Spirit – cleanse me with Your Holiness.
SUN VALLEY: ST. BRENDAN
CHURCH: Corner Corvette Avenue & Jangada Street, Sun Valley
MASSES: Sun 07.30, Thu 09.30 (1st Thu 10.00)
CATECHETICS: All classes Tue 15.00. Contact Kathy Mitchell 021 783 0986.
DEVOTIONS: Thu 09.00-09.30 Our Lady of Perpetual Help (1st Thu 09.00- 10.00 Eucharistic Holy Hour)
PRIEST RESIDENT AT: St John the Evangelist, Catholic Church, Fish Hoek, Tel: 021 782 2671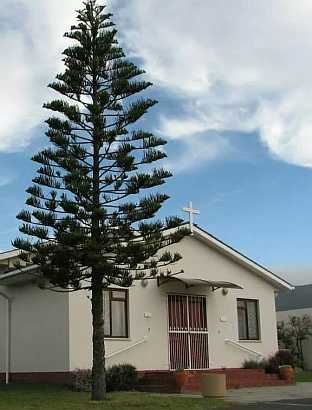 Church of St Brendan the Navigator
This Church was Blessed & Opened in 1984 and Dedicated in 2015